The long awaited prehistoric shark movie, Meg will be hitting theaters on 2nd March in 2018. Action star Jason Statham is heading a cast of relatively unknown actors, leading to the belief that perhaps this film will be more action oriented than originally thought. Steve Alten's original shark novel led to a series of successful follow ups, while the production of the live action version was first confirmed to be produced by Disney until problems arose two decades ago.
Meg's budget is reportedly $150,000,000 but there is little to report in terms of the intricacies of the making of the flick.
Theatrically, shark movies have been a bit of a mixed bag. Some, like the Jaws series, have been successful while others have tried to be just as good, or even better but proved otherwise.
Today, this feature is going to take a look at some of the best and worst shark movies to have graced the big screen since the original classic that started it all, Jaws.
Jaws (1975)
Jaws really needs little introduction. Let's be honest here. It is THE shark film that is to be looked upon as a reference guide in how to get it right. It's troubled production process means that it is amazing that this movie ever saw the light of day!
It is a known fact that the mechanical shark, named Bruce after Steven Spielberg's lawyer, kept breaking down while filming so the legendary director had to change tactics and show less of the shark but still maintain tension. Well, that worked but it begs to wonder how things would have turned out if Jaws became more of a "classic monster movie" that Spielberg originally had formulated.
The central villain isn't the movie's only focal point, however. Spielberg proved that he has the talent to create genuine chemistry between the characters he creates on screen, and half of the fun in the film's final act is how the three hunters desperate to bring the shark to an end all interact. That fraction is a joy to watch unfold. There are no one dimensional fictional identities in Jaws!
Before 1978's Halloween did it, Jaws contained an entity that was described as otherworldly and something that hardly anybody (in their right mind) can relate to. The robotic movements of the rubber fabricated shark may be evident during certain moments, but the near perfect musical score, camera techniques and skillful crafting of the script all outweigh the technical limits of the era.
Jaws is one of the main definitions of revolutionary filmmaking!
Jaws 2 (1978)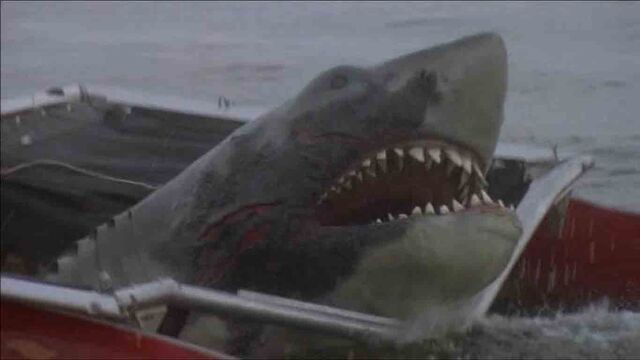 Actor Roy Scheider was contractually obliged to return to battle his onscreen beastly nemesis. The result is a lot more victims being chewed up while Chief Brody tries to convince the mayor (again) that they have another shark problem.
The film does contain a few moments of well crafted terror, and while pacing is also more slicker it lacks any interesting characters that come across as nothing more than human material for the shark to do it's thing. Most detrimental was the choice to show the shark early and more generously, the complete opposite of what Steven Spielberg implemented in his original masterpiece.
Jaws 2 is still a worthy sequel overall, but it is clearly evident that it lacked a masterful touch!
Jaws 3D (1983)
James Cameron's Avatar wasn't the only movie that initiated a craze for 3D movies! There was also a little buzz about it during the early 1980's. The Amityville and Friday 13th series all had a 3D entry developed. Jaws 3D and Friday 13th 3D are the most discussed although the famous effect disguised the inadequacy of things that really are all about the art of filmmaking including narrative and character development.
Jaws 3D departed from the setting of Amity island and actually came up with a good idea. Unfortunately, the execution of it became a tragedy! Furthermore, the standard 2D version of the film was plagued with an extremely bad picture quality that included ghosting and a general amount of inaccurate focus.
Jaws 3D is a slog to get through, no matter how many times one gives it a try!
Jaws: The Revenge (1987)
Jaws 3D may have been mediocre but that didn't stop Universal from letting Bruce off the leash one more time. It was British actor Michael Caine's turn to battle the shark that, this time, travels to the Caribbean in order to hunt the remainder of the Brody family for the death of it's own.
The ending had to be reshot due to test audiences not thinking the original conclusion was "explosive" enough. But the whole movie is one laughable romp. Whether it is more watchable than Jaws 3D is found to be highly subjective. But most would do well to just be done with the franchise after the second film, even if it was Friday 13th with a shark!
Deep Blue Sea (1999)

1999 saw a minor resurgence in aquatic critter movies, one of them being this particular shark oriented film. Samuel L. Jackson and rapper LL Cool J made up a relatively competently cast in this horror flick about genetically modified Mako sharks on the prowl in a flooded animal research facility.
The tone was set so Deep Blue Sea felt more like a popcorn thriller movie rather than a production planned to instill genuine moments of discomposure. It kills nearly two hours but viewers wanting something more consequential should look no further than Spielberg's original classic.
Shark Night 3D (2011)
Without sugar coating it, Shark Night 3D is the type of film that you would catch on the Sy Fy channel. You know, the type of movie that is so inferior that you may even have trouble sitting through it unless the right situation presents itself ie getting heavily intoxicated with your friends and wanting to finish the night laughing at how bad the film is.
The usual story of 7 college friends finding themselves in peril that takes a predictable turn is the best this turd unloads. The special effects are ludicrous, but that is okay seeing as everything else about it is. Gore fans do not even get to have a good time either, seeing as there is a lack of it in order to obtain a PG-13 rating.
If there was a Razzy award category for Worst Shark Movie To Have Hit The Big Screen then this would no doubt be the winner. It cannot even be said that it is good in a bad way. It is just bad.